This giveaway is CLOSED but please enjoy the Beautiful Disaster character interview below!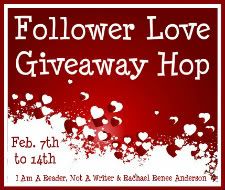 This hop is hosted by Kathy at
I Am a Reader, Not a Writer
and co hosted by
Racheal Renee Anderson
.
Many bloggers are participating in this giveaway event and we are all linked together so that you may hop from one blog to the next (links are below). So get comfy and flex your fingers because you're about to work your little digits off entering some great giveaways.
Good Luck Everyone!
I've got something special for you today! Not only am I giving away a very sought after paperback copy of Beautiful Disaster by Jamie McGuire but I have Travis and Abby on my blog. Take a look at this Q&A between these two.
Abby's Questions for Travis
What color best describes your personality and why?
Black, because I'm a bad mother fucker. *Abby rolls her eyes* Just kidding, Pidge. I like orange. I hear it's the color for an outgoing and adventurous personality.
What are your best qualities?
I'm a lover when I'm lovin' and a fighter when I'm fightin'.

If you could have three wishes, what would they be?
Money. Babies. A lifetime with you. Not in that order.
What is one word that describes your life?
Fucked up. Oh, wait. That's two.
Wha
t's your theme song?
Bleed it Out by Linkin Park.
What is your best pick up line?
Pfft...I don't need pick up lines. I smile and they come running. *clears throat* Came running. Past tense.
If you could be any animal, what would you be and why?
A lion. I'm a cunning, wild, bad ass family man.
Do you consider yourself a lover or a fighter?
Both.
What was your first tattoo and why did you get it?
This one. *points to right shoulder* It's my mom's name intertwined in the wing of the dragonfly. She loved dragonflies. At least, that's what Dad tells me.

Where do you see yourself in ten years?
Working on a SWAT team, married, with a few little ones running around . Crazy happy.
Travis's questions for Abby
What have you always wanted to do but haven't yet?
Beat Kathy Liebert at poker.
What three things do you never leave the house without?
My purse, chapstick, cell phone.
Where is your favorite place to be?
In our apartment, baby. :)
Do you believe in love at first sight?
No.
Which was the first crush you ever had?
I had a crush on Justin Taylor Thomas.

A mutual friend flirts with you; would you tell me?
No, and you know why.

What was one thing that surprised you the most about me?
That's a tough question. I guess that you are capable of beating someone to a bloody pulp and also being vulnerable and sweet.
What is your most treasured possession and why?
My wedding ring, of course. Because it signifies the best decision I ever made.
Now that you have one, do you plan on getting another tattoo?
Probably not, no.
What's up for grabs...
Published 2011 by Jamie McGuire
The new Abby Abernathy is a good girl. She doesn't drink or swear, and she has the appropriate percentage of cardigans in her wardrobe. Abby believes she has enough distance between her and the darkness of her past, but when she arrives at college with her best friend America, her path to a new beginning is quickly challenged by Eastern University's Walking One-Night Stand.

Travis Maddox, lean, cut, and covered in tattoos, is exactly what Abby needs—and wants—to avoid. He spends his nights winning money in a floating fight ring, and his days as the charming college co-ed. Intrigued by Abby's resistance to his charms, Travis tricks her into his daily life with a simple bet. If he loses, he must remain abstinent for a month. If Abby loses, she must live in Travis' apartment for the same amount of time. Either way, Travis has no idea that he has met his match.--Goodreads
a Rafflecopter giveaway