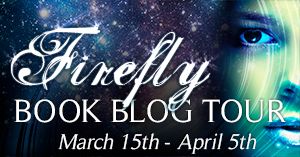 Published January 26th 2013 by CreateSpace
"The darkest days are ahead of us," Andrew whispered as the drape of shadows slipped away, allowing Blair to awaken. And in her heart of hearts she knew it was true. The unmistakable signs were all around her, growing within her. She was becoming something more than human. All she could do was accept the inevitable.

"I've become a freak … an alien. I no longer belong to the human world," Blair told her true love, and he held her close, determined never to give her up.

"I'd stay in this darkness forever as long as I could be with you. Wherever you are … that's my home." Everett meant every word. In fact, he'd willingly give up his own life to protect the girl he'd always loved.

But there was a storm brewing … a firestorm so strong and catastrophic that it could keep them apart forever.

That storm roared into town wearing a brown leather bomber jacket and riding a motorcycle.

Ash was like a secret in human clothing … a dangerous secret. Everything about him was mesmerizing – right down to the swirls of ink that flowed over the smooth muscles across his chest and around his arms. Being with him was like playing with fire.

Blair knew all about playing with fire.

She knew something else, too. A small quiet voice deep within whispered that she really would be separated from everyone and everything she'd known and loved.

Because some secrets run too deep.-- Goodreads
Five….Fifty-Five……Five Hundred and Five??!!
(Trust me folks, FIVE stars is not enough!!)
I have been dying to read this book since I first got my hands on book 1, Cicada. Let me just say this, Ms. Whittington does not disappoint in her teeth gnashing, action packed, mystery filled, suspenseful sequel!! I love this story so much I don't know where to begin; it's so difficult to define and explain without spoilers. Firefly is darker and more mysterious than Cicada and trust me this is a very, very good thing. Ms. Whittington's writing has only gotten better. She connects more of the dots (warning: you must be patient for them!) of the mystery surrounding Blair, her family and friends. While Firefly has all the mystery, suspense and sci-fi elements of Cicada, it also kicks up the romance a really big notch. Since I'm "in love" with love, this really does it for me. There is also no shortage of hotties in book 2! I must say that the hotties, are not just hot but smokin'! Whew I'm getting warm just thinking of everyone's favorite bug boy Everett. Don't expect the same Everett from book 1, he's changed (oh my how he has changed)! Ladies, don't worry you will not be disappointed in the change. In Firefly, Everett faces some competition for Blair's affection from the mysterious Ash. Oh my goodness Ash, I'm fanning my face just thinking of the very intense and sexy Ash. I've NEVER been so caught up and confused by a love triangle in my life. I LOVE both of them! Damn you Belle Whittington!!!!!
We also get a closer and more in depth look at other characters such as: David, Natalie, Mom and Grandma. Hands off! David is mine everyone! David is one of my all-time favorite book characters!! He steals the show in every scene he appears in.
I devoured this book and was very stressed when it ended. The only thing that kept me happy is the knowledge that Ms. Whittington is currently writing the last book in the trilogy. The ending had me cheering for Blair's strength, while pulling my hair in distress over the events that I know must be coming and for the mysteries still not revealed. Her writing is magic and she weaves a magnificent story that will leave readers alternately clamoring for more and saddened when it ends!
Being from Texas, like Ms. Whittington, I cannot help offering this very "Texan" comparison between Cicada and Firefly.

If Cicada is a well-oiled, smooth operating pellet gun. Then, Ladies and Gentleman, Firefly is an efficient and effective, double barreled sawed off shotgun!! In other words, be prepared, be very prepared…..
Other books in th

is series
Book 1: Cicada
Book 2: Firefly
"You have the head of an ass!"-Blair
********************************************************************
"So you wanna break in, huh?" David asked.
"Yes. But after Christmas day," I answered. "I don't want to ruin anyone's holiday."
"I'll bring my bat," he said…then hung up.
I looked at the phone and scratched my head.
*******************************************************************
"You look beautiful wrapped in stars, Sugar." He leaned toward me and spoke so only I could hear.

"But, then again, you always did."
"I don't think we've been introduced," Everett stepped forward, holding his hand out to shake Ash's.
"No introduction is necessary," Ash said, pushing past Everett.

"I know who you are."
"How about you tell me who you are?" Everett said, stepping in between Ash and me.
Ash looked at Everett in the same way that I'd look at Luke … as if he were a mere insect … someone who was undeserving of the breath it would take to speak another word to him.

Then he walked out of the house, climbed into a shiny black corvette, and tore out of the driveway.
I looped my arms through one of Everett's and leaned my head on his shoulder.

"That's Ash."
"Oh.

That explains a lot."

He turned his head and looked down into my eyes.
"Are you angry?" I pressed against him, lifting myself up on my tippy toes.
"On the contrary." He shook his head, his blue eyes looking at my lips.

"You're my girl."
"Yes, I am." My voice was breathy as I stretched my arms up around his neck.

He lifted me by my waist and covered my lips with his once more.

Kissing him was like a drug.

I couldn't get enough.

My eyes felt hazy, by breath quickened … my heart pounded in my chest.
He lowered me back down, and that was when I realized how hazy and drugged his eyes looked.

He bit his bottom lip and started to reach for me again, but Natalie intervened.
"Y'all can do that later," she tugged at my arm.

"I need to fix her makeup."
"I think we'll be doing a lot more of that later," he said under his breath.

It made me giggle.

It made Natalie giggle, too.

Then she gave us the beginnings of the "keeping it safe" speech, which I quickly nipped in the bud
Belle resides somewhere north of Houston, Texas in a small inconsequential town with the smallest most inconsequential name. There, in the shady reaches of the pines, elms, and oaks, she daydreams of adventures and secrets that she weaves throughout her stories.
Having studied literature at University of Houston, Belle has been known to consider teaching at the college level someday.
Website
/
Facebook