He was lost and alone. Then he found her.
And the future seemed more fragile than ever.

As a child, Landon Lucas Maxfield believed his life was perfect and looked forward to a future filled with promise — until tragedy tore his family apart and made him doubt everything he ever believed.

All he wanted was to leave the past behind. When he met Jacqueline Wallace, his desire to be everything she needed came so easy…

As easy as it could be for a man who learned that the soul is breakable and that everything you hoped for could be ripped away in a heartbeat.--Goodreads
My POV
While reading Lucas's POV I was unexpectedly more intrigued in Jacqueline and his journey to a HEA this time around. I truly didn't know what to expect but I was pleasantly surprised as to how much I fell in love with Lucas all over again. In fact I am more in love with him now after reading Breakable. This is one of the best books I've ever read! I Loved it so much!
It was wonderful to get all the reasons behind Lucas's questionable actions (in Easy) and totally understand his situation completely. I was a lot more sympathetic towards him throughout this story since you see from the very beginning how alone and broken he felt. His past was heartbreaking but he's a much stronger person for it.
Lucas as a character is strong, brave, intelligent, talented and caring. He may not show his feelings much but they are there and most of times they run deep. It's not easy for him to love someone especially with his past but the way he loves Jacqueline, it's a force to be reckon with.
Now that we have this a more in-depth look into Jacqueline and Lucas's story with this being in his POV I'm content with saying their story is solidified and complete. Although like any obsessive fan I wouldn't mind more. I enjoy Tammara's writing immensely and was impressed as to how well some scenes seemed to really come alive in my mind.
If you have read Easy you have to read this! After reading Breakable you will have the FULL story and completely understand each situation. You will regret it if you don't!
Other Books in the Series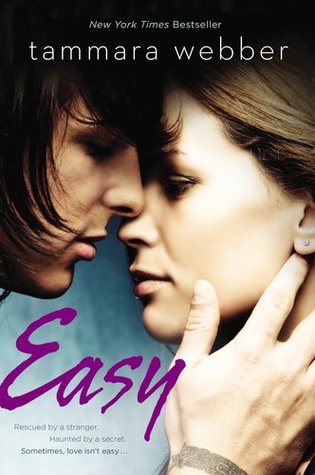 This is a text message between Lucas and Jacqueline. This not from the book. Enjoy!


Tammara Webber is the author of upcoming release BREAKABLE (May 2014) - companion novel to the NYT Bestseller EASY (May 2012), and the Between the Lines series: BETWEEN THE LINES (May 2011), WHERE YOU ARE (Oct 2011), GOOD FOR YOU (Dec 2011) and HERE WITHOUT YOU (Aug 2013).
I'm a hopeful romantic who adores novels with happy endings, because there are enough sad endings in real life. Before writing full-time, I was an undergraduate academic advisor, economics tutor, planetarium office manager, radiology call center rep, and the palest person to ever work at a tanning salon. I married my high school sweetheart, and I'm Mom to three adult kids and four very immature cats.
~~~~~~~~~~~~~~~~~~~~~~~