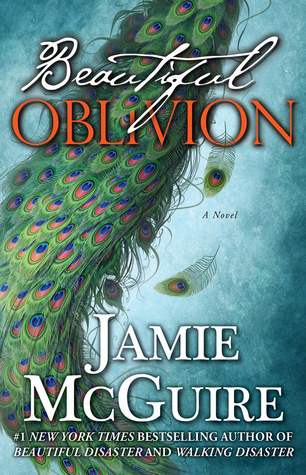 BEAUTIFUL OBLIVION
Atria Books | 336 pages | Paperback ISBN 9781476759586 | eBook ISBN: ISBN 9781476759593 | On Sale:

July 1, 2014
The Beautiful Disaster and Walking Disaster phenomenon continues in the first heart-pounding new adult romance in The Maddox Brothers series.

Fiercely independent Camille "Cami" Camlin gladly moved on from her childhood before it was over. She has held down a job since before she could drive, and moved into her own apartment after her freshman year of college. Now tending bar at The Red Door, Cami doesn't have time for much else besides work and classes, until a trip to see her boyfriend is cancelled, leaving her with a first weekend off in almost a year.

Trenton Maddox was the king of Eastern State University, dating co-eds before he even graduated high school. His friends wanted to be him, and women wanted to tame him, but after a tragic accident turned his world upside down, Trenton leaves campus to come to grips with the crushing guilt.

Eighteen months later, Trenton is living at home with his widower father, and works full-time at a local tattoo parlor to help with the bills. Just when he thinks his life is returning to normal, he notices Cami sitting alone at a table at The Red.

As the baby sister of four rowdy brothers, Cami believes she'll have no problem keeping her new friendship with Trenton Maddox strictly platonic. But when a Maddox boy falls in love, he loves forever—even if she is the only reason their already broken family could fall apart.

In the first installment of the Maddox Brothers books, readers can experience the rush of reading Beautiful Disaster for the first time, all over again.
My POV
This book drove me nuts!! But in a good way of course…LOL! Not only was it tons of fun to read and I got to see Travis again *does the happy dance* but the mystery element had me out of my seat and pacing the floor. I have to say Jamie got me BIG TIME with a crazy surprise!
Now let's talk Trent for a bit. He definitely gives Travis a run for his money. At times I loved him more than Travis but I think they are pretty equally loved in my heart. What I really loved about Trent's story is the history between Cami and him. The attraction between them isn't new and that made their story that much sweeter even though their situation now is a holy mess. He is adorable, loving and funny but he's also a MADDOX's which means he's stubborn, cocky and frustratingly insistent too. Even so you can't help but fall madly in love with his tattooing bad boy self.
Cami is a very complicated woman who pretty much keeps everyone at distance. She carries a lot of emotional baggage because of her childhood which has made her an extremely strong independent woman. Trying with all of her might to fend off Trent is not something she can do for very long. There is just something about a MADDOX's that even she can't resist. BUT, there is something she's keeping from him. A secret that may change everything.
There are so many things I loved about this book. The humor between these two just put me in a good mood and the tattoos make me wistful. I wish I was brave enough to get them. But most of all it ends up being a beautiful love story. Which now leads us to the next Maddox…. I can't wait to get my hand on you!
JAMIE McGUIRE is the New York Times bestselling author of A Beautiful Wedding, Red Hill, Walking Disaster, Beautiful Disaster, and The Providence trilogy. She and her husband, Jeff, live with their children just outside Enid, Oklahoma, with three dogs, six horses, and a cat named Rooster.
Find Jamie Online
Say hi to Atria Books